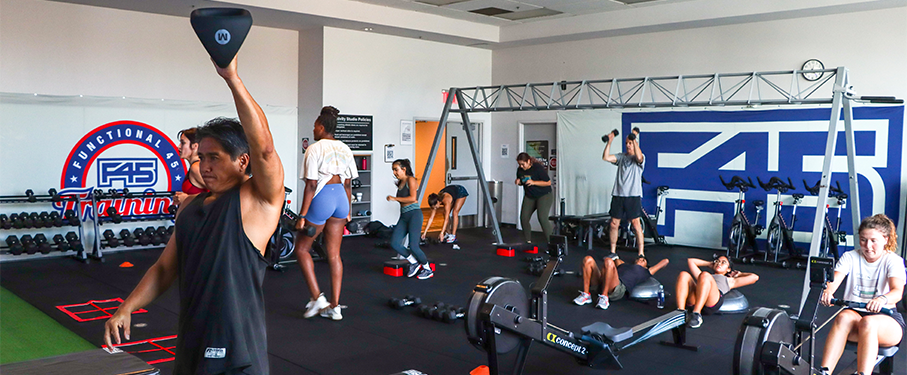 Summer Group Fitness will resume on Monday, August 28th. The schedule is subject to change due to university holidays & breaks, classes are offered on a first come first serve basis.
With as many as 40+ classes each week, the FitWell Center offers an exciting environment for your exercise and fitness needs. We have some of the best instructors in the country and we are proud to share their abilities with you! With a wide variety of group fitness classes including F45, Yoga, Cycling, Zumba, and more, each class is taught by a certified instructor and open to all Burns Recreation Center members.
We are proud to offer F45 Classes!
F45 (Functional 45 minutes) is a team-based, functional training program. Functional 45 (F45) workouts are never repeated, making every workout a unique experience. F45 Training combines elements of High-Intensity Interval Training (HIIT), Circuit Training, and Functional Training. The variation of the workouts will keep you challenged, eager to grow, and ready to have fun!
Classes will start on time. Arrive 5-10 minutes early to reserve your spot.
Studio 2 will be closed 45 minutes prior to each F45 class for set-up and prep.
All classes are on a first-come, first-serve basis.
Classes and instructors are subject to last-minute changes.
Monday
Tuesday
Wednesday
Thursday
Friday
Saturday
Sunday

CYCLE BOOTCAMP
6:30-7:15 a.m.
VIVIAN

F45
6:45-7:30 a.m.
BRIAN

CYCLE BOOTCAMP
6:45-7:30 a.m.
MARIECLARE

BOXING BOOTCAMP
9-9:45 a.m.
MARIECLARE

YOGA SCULPT
11-11:45 a.m.
ISABEL

BOLLY POP
10-10:45 a.m.
MAYURI

F45
10-11 a.m.
STUDENT TRAINERS
F45
11:00-11:45AM
ALDO

F45
12:15-1 p.m.
MICHELLE

F45
11:30 a.m.-12:15 p.m.
MICHELLE

F45
12:15-1 p.m.
ALDO

F45
11:30 a.m.-12:15 p.m.
MICHELLE

F45
12:15-1 p.m.
ALDO

CARDIO BOOTCAMP
11-11:45 a.m.
ALDO

YOGA FLOW
noon-12:45 p.m.
LIZBETH

YOGA FLOW
noon-12:45 p.m.
LIZBETH

BODY CONDITIONING
BOOTCAMP
4:30-5:15 p.m.
MARIECLARE

F45
4:30-5:15 p.m.
ALDO

CARDIO BOOTCAMP
4:30-5:15 p.m.
ALDO

F45
4:30-5:15 p.m.
ALDO

CARDIO BOOTCAMP
4:30-5:15 p.m.
ALDO

AB LAB
5:30-5:50 p.m.
ALDO

AB LAB
5:30-5:50 p.m.
VIVIAN

AB LAB
5:30-5:50 p.m.
TORI

AB LAB
5:30-5:50 p.m.
VIVIAN

AB LAB
5:30-5:50 p.m.
ALDO

F45
6-6:45 p.m.
ALDO

LOWER BODY SCULPT
6-6:45 p.m.
VIVIAN

F45
6-6:45 p.m.
TORI

F45
6-6:45 p.m.
VIVIAN

ZUMBA
7:00-7:45 p.m.
FAYAD

HIP HOP
7-7:45 p.m.
FAYAD

YOGA SCULPT
6-6:45 p.m.
ISABEL

F45
7-7:45 p.m.
VIVIAN

TOTAL BODY STRENGTH
7-7:45 p.m.
TORI

YOGA FLOW
8:15-9:15 p.m.
CLAIRE





YOGA FLOW
8:15-9:15 p.m.
CLAIRE






YOGA & MEDITATION
8-9 p.m.
LIZBETH