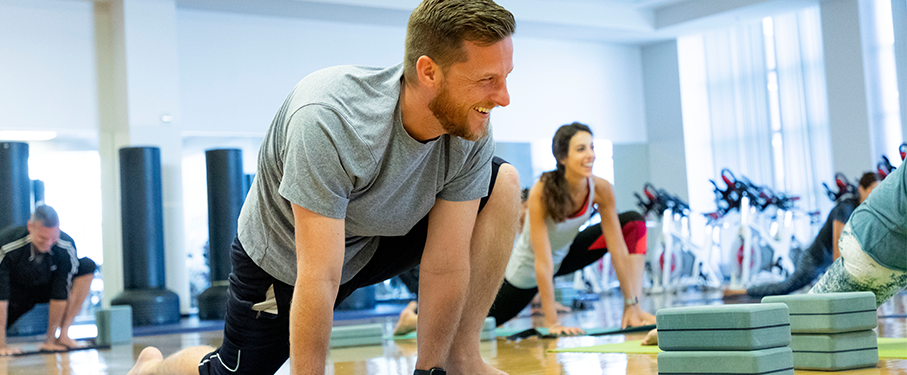 Ab Lab: Strengthen you core, balance and posture with intense abdominal and low back exercises.
Cycle Bootcamp: Combines HIITS and hills from cycling with strength training for a full-body workout.
Cycle: Cycle up hills, go fast with intervals, and get sweat on. This workout will challenge you mentally and physically to help you feel your best.
F45: Team based, functional, 45 minute training program that combines elements of HIIT, cardio, strength and more. It's a heart pumping motivating workout.
Full Body Burn: Combines the sculpting and core-firming benefits of Pilates, yoga, strength, and more to sculpt a long, lean body.
Lower body sculpt: A class that combines cardio and strength moves that will tone your lower body.
Meditation: Calm your mind and settle your body through this guided meditation. Learn to focus and destress through the power of your breath.
Yoga Flow: A dynamic, physically and spiritually energizing form of yoga that sculpts and stretches every muscle of your body.
Cardio Bootcamp: HIIT workout that combines a variety of cardio exercises to get your heart pumping.
Low Intensity Training: Combines the sculpting and core-firming benefits of pilates, yoga, strength and more to sculpt a long, lean body.
Body Conditioning Bootcamp: Combines sculpting and core-firming exercises tp strengthen your body and heart.
G.I.G. Gender-Inclusive Gym is designed for, but not limited to those who identify as female, male, nonbinary, or a part of the LGBTQIA+ community. It is a rotating class of F45, yoga, cycle bootcamp, & low intensity sculpt.
Hip-Hop: Learn fun hip hop and dance moves while burning calories and having a good time.
Zumba: Total body cardio and aerobic workout. A fun and energetic vibe while dancing to the best Latin & pop music, burn a ton of calories without even realizing it.
Boxing Bootcamp: Sculpt, tone and strengthen your body in a HIIT class that combines a variety boxing exercises and more.