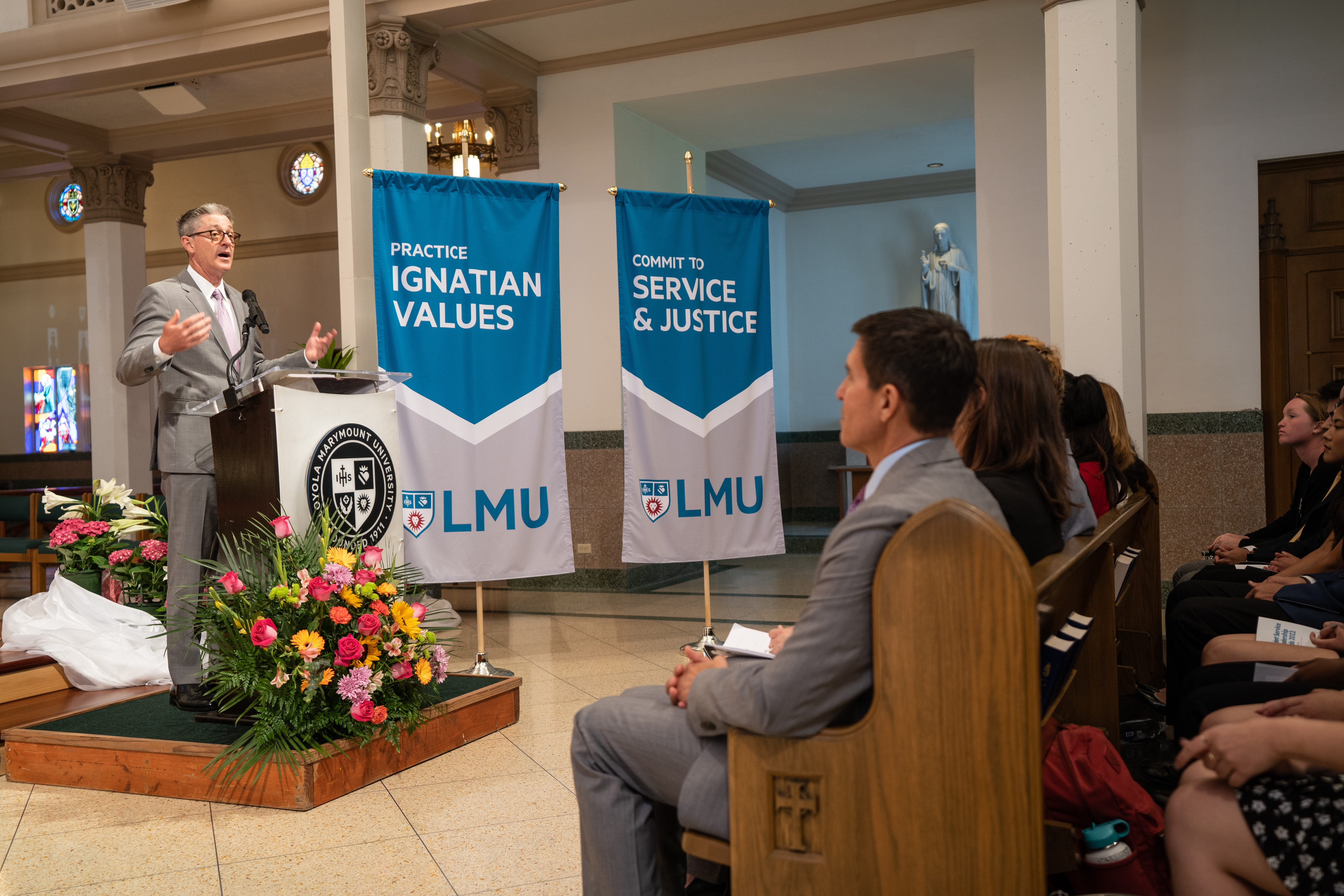 The Student Service & Leadership Awards (SSLA) take place every spring to recognize students who have distinguished themselves as leaders in service "with and for others"
Nominations for the Student Service and Leadership Awards 2023 are now open. Follow this link to complete a nomination for a student who has exemplified exceptional service and leadership during this academic year. Students may also nominate themselves and/or a peer.
Click each section below for a list of award recipients.
The 2021-2022 Student Service & Leadership Awards Ceremony was held on April 22, 2022 in Sacred Heart Chapel. Congratulations to the recipients!

RSO Pillar Awards

Practice Ignatian Values Award

Delta Sigma Theta

Integrate, Mind, Body & Spirit Award

Agapé Service Organization

Commit to Service & Justice Award

Dance Marathon

Become a Global Citizen Award

Isang Bansa

Live a Life of Purpose Award

Together as Effective AccoMplices (TEAM)

New Outstanding Organization of the Year

Asian American Symposium

Advisor of the Year

Fernando Estrada

Student Organization of the Year

National Society of Black Engineers

Fraternity Member of the Year

Samuel Camper, Beta Theta Pi

Sorority Member of the Year

Cameron Parra, Alpha Chi Omega

Interfraternal Scholars of the Year

Julia Trudeau, Pi Beta Phi

Ambassador of the Year

Carla Laure

Anna Schumann

Student Employee of the Year

Amira Mahomed

Samuel Nielsen

Female Scholar Athlete of the Year


Reka Orsi-Toth

Male Scholar Athlete of the Year

Noel Caliskan

Graduate Student Employee of the Year

Tamar Rotstein

Student Supervisor of the Year

Jocelyn "Joey" Armer, Assistant Director, Student Employment Services

Peg Dolan R.S.H.M. Award

Alexis Santos-Alvarado

Andrea Payre Madrigal

Audrey Fry

Jennifer Woo

Julia Novis

Khalid Stewart

Renee L. Harrangue, Ph.D. Award

Abbey Wineglass

Aiden Spagnoli

Anna Doherty

Bailey Woinarowicz

Claire Davis

Drew Hartz

Gabriel Mouritzen

Grace Foreman

Jesus Estrada

Jordan Fray

Margaret Quigg

Sarah-Jane Thomson

Alfred Kilp, S.J. Award

Amira Mahomed

Ashley Salisbury

Brisa Gutierrez

Chris Benis

Christina Noravian

Claribel Alcantar

Daniel Zegarra

Emily Mendieta

Gabriella Jeakle

Jackson Oehmler

John Reichmuth

Katherine Hernandez

Masah AlRabah

Nona Pittman

Samuel Camper

Scarlett Manning

Sophia Akin

Raymunde McKay, R.S.H.M Award

Abigail Manullang

Alexa Walls

Brion Dennis

Cameron Parra

Claire Kosewic

Declan Tomlinson

Dylan Marusich

Erin Schroeder

Ethan Frisone

Griffin Devine

Haley Laha

Isabella Barajas

Jaren Wright

Jessica Laar

Kamilah Roca-Datzer

Kylie Francisco

Leslie Sepulveda Ochoa

Michael Liu

Mirian Melendez

Mollie Williams

Quinton Markett

Taoyi Lu

Veronica Backer Peral

James Loughran, S.J. Service Award

Emil Sol

Donald P. Merrifield, S.J. Intercultural Award

Lizbeth Ramales Arango

Robert Graham, S.J. Award

Malia Thornton

Jack Mauro

The 2019-2020 Student Service & Leadership Awards Convocation was held virtually on May 13, 2020. Congratulations to the recipients!

Honor our student leaders in service: Watch Now

RSO Pillar Awards

Practice Ignatian Values Award

Sigma Phi Epsilon

Integrate, Mind, Body & Spirit Award

Volunteers Around the World

Commit to Service & Justice Award

Agape Service Organization

Become a Global Citizen Award

Han Tao

Live a Life of Purpose Award

Building, Advancing, and Loving Indonesia Club

New Outstanding Organization of the Year

Music Industry Student Organization

Advisor of the Year

Mitch Rufca

Student Organization of the Year

Esports

University Program of the Year

ASLMU

Fraternity Member of the Year

Tommy Bennett, Phi Delta Theta

Sorority Member of the Year

Kenzie Hunt, Alpha Kappa Alpha Sorority, Incorporated

Interfraternal Scholars of the Year

Jamie Klapp, Alpha Phi

Dominick Divine III, Delta Sigma Phi

Ambassador of the Year

Luca Basilone

Student Employee of the Year

America Negrete

Graduate Student Employee of the Year

Francisco Pereira Coutinho

Student Supervisor of the Year

Dr. Morgan Gross, Associate Director of the Academic Resource Center

Graduate Student Awards

Education of the Whole Person Award

Smitty Dukes

Johnny Martinez

Alexandria Mendez

Michael Tuxhorn

Encouragement of Learning Award

Taylor Aguilar

Avery Christmas

Brandon Estrella

Max Gleiser

Luke Hart-Moynihan

Michael McCurdy

Krushan Naik

Coady Spaeth

Sihua Wang

Service of Faith and the Promotion of Justice Award

Yousef Abdeen

Anthony Ertle

Sydney Minckler

Cecilia Sánchez

Peg Dolan R.S.H.M. Award

Mikaela Adams

Hannah Agbaroji

Alaysia Barker-Vaughn

Halley Jeanne Dante

Gabriella Jeakle

Connor Ordonez

Saúl Rascón Salazar

Renee L. Harrangue, Ph.D. Award

Seth Bakke

Molly Box

José Miguel Camacho

Chloe Clark

Brion Dennis

Nicole Hernandez

Jose Miguel Lopez Arroyo

Taoyi "Kelly" Lu

Abby Manullang

Jack Mauro

Lizbeth Ramales Arango

Malia Thornton

Alfred Kilp, S.J. Award

Tommy Bennett

Grace Bernal

Emmanuel Broussard

Matthew Carungay

Alexis Cordova

Madison Davis

Desiree Diaz

Calvin Foss

Jenica Rose Garcia

Mikayla Gingrey

Adriana Gomez

Gaby Guerrero

Elsie Mares

Taylor Pajunen

Jackson Palen

Maya Paniagua

Raymunde McKay, R.S.H.M Award

Elizabeth Bromley

Raleigh Burk

Isaac Cardenas

Ken Cavanaugh

Hannah Christensen-Levy

Jennifer Chua

Jacob Cornblatt

Nicholas Dauchot

Camila De Pierola

Ryan Hopkins

Salma Kamal

Ali King

Briana Ortiz

Sebastian Pereira

Hallie Ryan

Emily Sinsky

Ariana Siordia

Angel Vazquez

Kapri Washington

Matthew Williams

James Loughran, S.J. Service Award

Alejandra Vasquez

Donald P. Merrifield, S.J. Intercultural Award

Kilan McCardie

The Magis Award

The Class of 2020

Robert Graham, S.J. Award

Luca Basilone

Kate Wilson

Other Recognitions

Academic Community of Excellence (ACE) Scholars

Outstanding Academic Achievement Awards are presented to at least two students from each ACE cohort who have earned the highest graduate point average in the Fall 2019 academic term.

The recipients of this year's awards are:

Lucie Everett '22
Nicole Hernandez '22
Leonardo Garcia Cerecedo '21
Malcolm Kam '21
Zoe Bell '20
Ingrid Yue '20