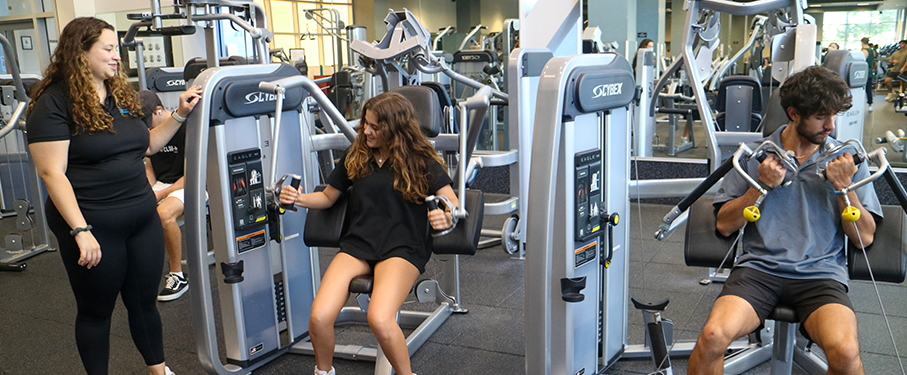 Burns Recreation Center members may purchase only one guest pass per visit. All guest passes are $10 per guest. Each guest must bring a valid photo ID indicating proof of age (i.e. driver's license, passport) upon admittance. Members must stay in the facility for the entire duration of the guest visit and all guests must agree to abide by all BRC rules and regulations.
For more information regarding guest entry into the Burns Recreation Center, please read the Guest Guidelines below:
Guest Guidelines
Attention: Alumni, Faculty/Staff, Part-time, grad, law student, Burns Recreation Center non-affiliate, listed below are the rules and regulations associated with facility access and usage for minors, guests and non-members:
I. Day Guest Passes
Guest pass is valid for the day.
Registered guests (guests accompanied by an LMU affiliate Burns Recreation Center Member;

AM Guest/community members cannot sponsor a guest

) will be charged

$10.00

per day. Each LMU affiliate who holds an active membership may sponsor one adult and up to three children under the age of 16 years old.
LMU affiliates are Alumni, Faculty, Staff, Vendor or student. Spouses/children on a family membership cannot sponsor a guest.
The guest pass is for use within the Burns Recreation Center. The pass is not applicable for other University facilities or programs.
Guests under the age of 18 must be signed in by a parent or guardian.
Guest under the age of 16 must be accompanied by an adult.
Burns Recreation Center members are responsible for the conduct and actions of their guests.
Individuals seeking admittance to the Burns Recreation Center may not solicit members to sponsor them as a guest.
Burns Recreation Center staff reserves the right to refuse admittance to a guest.
All Burns Recreation Center users are expected to be responsible, courteous, and safety conscious at all times. Users who disregard policies will be asked to leave the facility and may be suspended from further use of the Burns Recreation Center.
All individuals must sign the liability/participation waiver.
A parent or guardian must sign the waiver form for all individuals (LMU students exempted) under the age of 18.
LMU Onecard or a Campus Recreation Guest Pass is required for entrance.
Guest must observe all CREC policies.
Self-guided tours are not allowed in the facility. A Campus Recreation staff member must be called to facilitate a tour.
The member must accompany their guest at all times of day pass purchase. Guest may not remain in facilities after their sponsor has left.
The guest must present picture identification in order to purchase pass.
Member must be with guest at any time the guest is in the Rec center.
II. Minor Policy
A minor cannot purchase a guest pass unless accompanied by a parent or guardian.
Swimming Pool: Users must be 16 years of age or older unless accompanied by an adult and must provide proof upon request.
Fitness Center/Activity Studios: Children under the age of 16 are NOT allowed at any time. Users must be at least 16 years old to participate.
Gymnasium/Games Area: Parent or guardian must accompany children under 16 at all times. *Liability Waiver: Guests under 18 years of age must be signed in by a parent or guardian.
Students under the age of 18 years old need parent permission/authorization to utilize Campus Recreation. Please complete the Campus Recreation Undergraduate Waiver to use recreation facilities.
III. Caretaker Policy
All caretakers (ie. babysitters, nannies, etc.) for children of Burns Rec Center members may enter the facility at no charge given the following information:
Any Burns Rec Center members who will be using caretakers to bring in their children to the facility are required to register the caretaker name with the Member Services office. The caretaker info will be listed in the User Guide under the appropriate member name.
Caretakers are only allowed in the facility when supervising the children of a Burns Rec Center member. Caretakers serve as a supervisor/guardian for the children while in the facility and are not allowed to participate in any Burns Rec Center amenities.
Any caretakers found participating in any facility amenities (ie. swimming in the Rec Center pool, working out in the Fitness Center, etc.) will result in the suspension of privileges for the Burns Rec Center member.
IV. Spectator Policy
There are no spectators allowed in the facility with no exceptions.