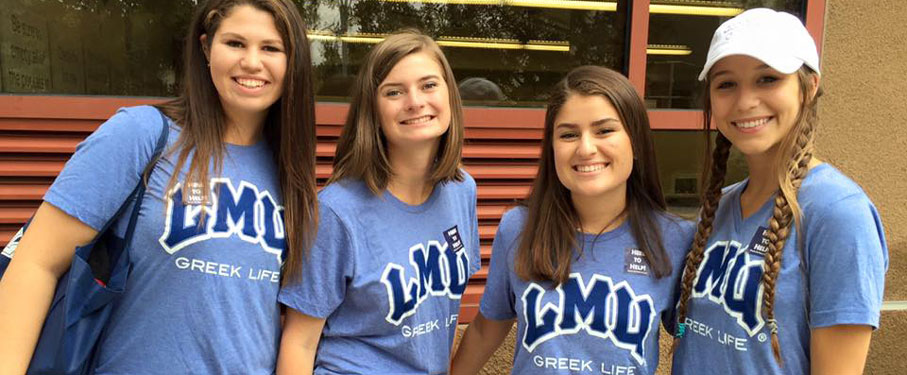 Are you interested in joining a panhellenic sorority at LMU? Participate in Panhellenic Formal Recruitment and find the chapter that is a perfect fit for you! Every recognized fraternity is founded upon various principles and values that the members mutually share. Fraternity and sorority life can add many valuable dimensions to your college experience!
January Formal Recruitment
Point of contact for recruitment:
Julia Saunders
VP Recruitment
Registration Link:
http://lmupanhellenic.mycampusdirector2.com/
Why should someone register:
Panhellenic Recruitment is a great opportunity to interact with other women on campus and to learn from other's backgrounds, experiences, and stories. As you go through the process you will meet active members of the LMU community who can share about their experiences within their sorority, their time at LMU, as well as their roles as active agents of the community. LMU's Panhellenic Recruitment experience allows you to create a community with other women who are also going through the process themselves. Overall, Panhellenic offers everyone a chance to meet and converse with women as one searches to be integrated in campus life.
Timeline of Recruitment events:
Wednesday 1/27 7:00-8:30pm, 9:30-10:30pm - PNM Orientation 1
Thursday 1/28 - PNM Orientation 2
Friday 1/29 - Sisterhood Round
Saturday 1/30 - Philanthropy Day
Sunday 1/31 - Preference Day
Monday 2/1 - Bid Distribution / Bid Night