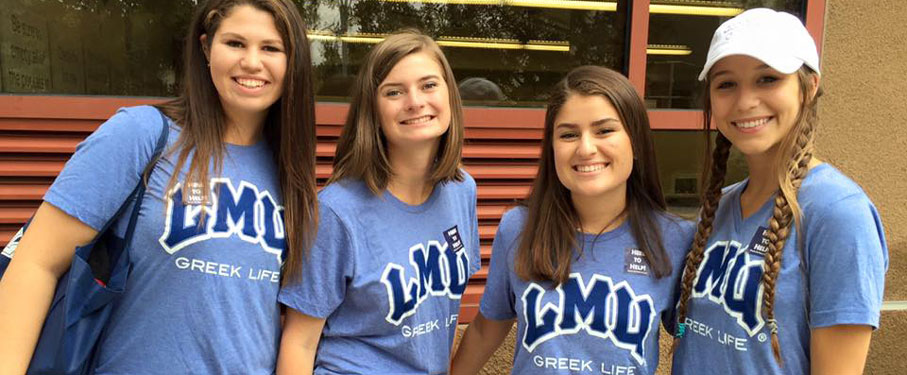 Are you interested in joining a Panhellenic sorority at LMU? Participate in Panhellenic Formal Recruitment and find the chapter that is a perfect fit for you! Every recognized sorority is founded upon various principles and values that the members mutually share. Sorority and Fraternity life can add many valuable dimensions to your college experience!
January Formal Recruitment
Point of contact for recruitment:
Marianne Hayes
VP of Membership
Why should someone register:
Panhellenic Recruitment is a great opportunity to interact with other women on campus and to learn from others' backgrounds, experiences, and stories. As you go through the process you will meet active members of the LMU community who can share about their experiences within their sorority, their time at LMU, and their roles as active agents of the community. LMU's Panhellenic Recruitment experience allows you to create a community with other women who are also going through the process themselves. Overall, Panhellenic offers everyone a chance to meet and converse with some amazing women as you search for your place and your purpose on campus.
Important Updates for Spring 2022 Panhellenic Recruitment:
Due to the recent announcement that classes have been moved online for the first two weeks of the semester and that all indoor events from January 3rd to January 23rd have been cancelled, Panhellenic Recruitment will now be happening online via Zoom. Bid Night will still happen in person on Monday, January 24th. With the recent increase in Covid-19 cases across the country, we want to ensure that our community stays safe and healthy so that we can all enjoy an in person chapter and campus experience moving forward. You will receive more information about virtual recruitment once you register. If you have any questions, you may also reach out to the Collegiate Panhellenic Council's primary advisor, Rainey Lynch at rainey.lynch@lmu.edu.

Timeline of Recruitment events:
Tuesday 1/18 - PNM Orientation 1 on Zoom
Wednesday 1/19 - Recruitment Group Bonding Day on Zoom
Thursday 1/20 - PNM Orientation 2 on Zoom
Friday 1/21 - Sisterhood Round on Zoom
Saturday 1/22 - Philanthropy Day on Zoom
Sunday 1/23 - Preference Day on Zoom
Monday 1/24 - Bid Distribution / Bid Night IN PERSON!