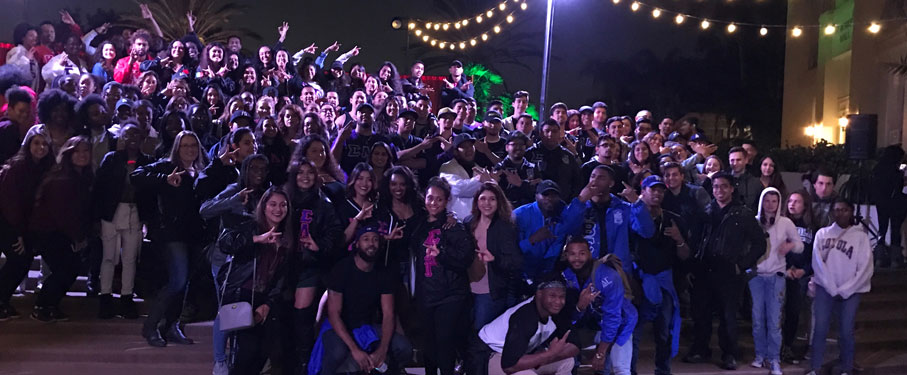 Intake for the Multicultural Greek Council
Recruitment in Multicultural Greek Council Organizations is also referred to as "intake." The intake process for each chapter is different and occurs throughout the semester, however each group hosts information sessions where any interested students can attend. Other activities held over the course of the semester are to help educate and inform prospective members on the unique programs and opportunities that exist within those groups.
Students wishing to join a culturally-based fraternity or sorority must meet the LMU requirements to join: at least a 2.5 cumulative GPA and 12 units completed.
Get to know our Multicultural Greek Council, comprised of our culturally based sororities and fraternities!
If you are interested in joining a MGC chapter, you can reach out to sfl@lmu.edu, or contact a member of that chapter.
Chi Delta Theta was formally recognized on LMU's campus in the spring of 2022.

Sigma Lambda Beta International Fraternity, Inc. (ΣΛΒ) is a Latino-based multicultural social fraternity that was founded in 1986 at the University of Iowa. Built upon the principles of Brotherhood, Scholarship, Community Service, and Cultural Awareness, Sigma Lambda Beta's mission is to nurture and further a dynamic, value-based environment which utilizes its diverse multicultural membership as a catalyst to better serve the needs and wants of all people. Sigma Lambda Beta International Fraternity, Inc. values fairness, opportunity, and the equality of all men regardless of their race, culture, or ethnicity. We are committed to create and expand multicultural leadership, promote academic excellence, provide cultural awareness and education, and establish a Brotherhood amongst all intelligent and dedicated young men on university campuses across the nation. In order to achieve this goal we strive to model these behaviors and present ourselves in a gentlemanly and educated fashion.

The Alpha Beta chapter of Sigma Lambda Gamma National Sorority, Inc. (ΣΛΓ) here at LMU was chartered March 12, 2000. This organization was founded on April 9, 1990 at the University of Iowa and built on the principles of academics, community service, cultural awareness, morals and ethics, and social interaction. SLG is an organization committed to providing a mechanism of empowerment to all women. Today, Sigma Lambda Gamma is the largest, historically Latina-based national sorority with a multicultural membership in chapters and alumnae associations throughout the nation. Our national philanthropies are Breast Cancer Awareness and the TRIO Program.