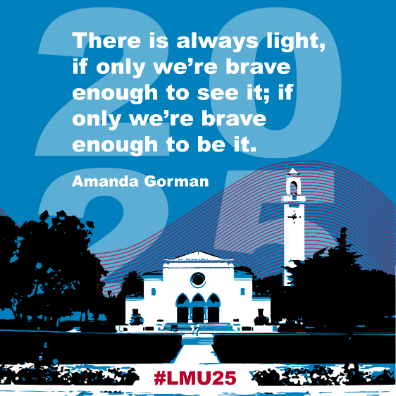 Amanda Gorman wowed the world when she spoke with overwhelming grace and conviction at the 2021 Inauguration of American President Joe Biden and Vice President Kamala Harris, the first woman and person of color to serve in that office. With the world in the middle of a global pandemic and a nation undergoing a racial reckoning of its own, the words of Amanda Gorman echoed far and wide as she urged for us to find the strength within ourselves to keep working together and strive for a better future. Amanda Gorman was elected the first National Youth Poet Laureate in 2017 and at the age of 22, was the youngest inaugural poet ever. During her spoken word poem at the 2021 Inauguration – The Hill We Climb – Gorman references the ever change scope of our country and opportunity that we find ourselves in now. We have the ability to make a difference and although things may seem dark now Gorman reminds us to look inward, "For there is always light, if only we're brave enough to see it; If only we're brave enough to be it."
Download the Class of 2025 design below: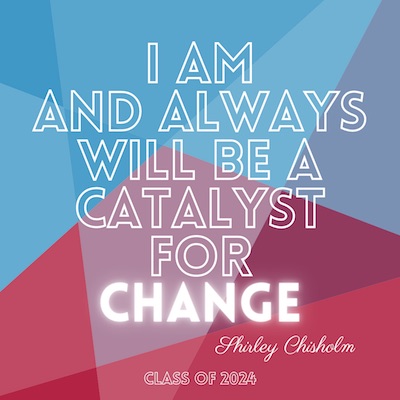 Shirley Chisholm was the first African American woman in Congress (1968) and the first woman and African American to seek the nomination for president of the United States from one of the two major political parties (1972). Her motto and title of her autobiography—Unbossed and Unbought—illustrates her outspoken advocacy for women and minorities during her seven terms in the U.S. House of Representatives. Beset by racist and sexist opposition, she advocated for poor inner-city residents, saying, "I am and always will be a catalyst for change."
Download the Class of 2024 design below:
About the Class Motto
Each class is given a motto, chosen by the class before them. At graduation, your class will reflect upon its time at LMU and how it has lived out its motto. Your motto provides you with a unique identity not only with your graduating class but also as an LMU Lion.
Class of 2025 - "There is always light, if only we're brave enough to see it; if only we're brave enough to be it." - Amanda Gorman
Class of 2024 - "I am and always will be a catalyst for change." - Shirley Chisholm
Class of 2023 - "99% of the ethical life is being kind to people." - James Martin, S.J.
Class of 2022 - "Education breeds confidence. Confidence breeds hope. Hope breeds peace." - Confucius
Class of 2021 - "Education is the most powerful weapon we can use to change the world." - Nelson Mandela
Class of 2020 - "It takes courage to grow up and become who you really are." - E.E. Cummings
Class of 2019 - "The choices we make dictate the life we lead." - Jim Burnstein
Class of 2018 – "What is easy is seldom excellent." – Samuel Johnson
Class of 2017 – "This world is but a canvas for our imaginations." – Henry David Thoreau
Class of 2016 – "Go forth and set the world on fire." – St. Ignatius Loyola
Class of 2015 – "Live the life you have imagined." – Henry David Thoreau
Class of 2014 – "The purpose of life is a life of purpose." – Robert Byrne
Class of 2013 – "Life is not about finding yourself, life is about creating yourself." – George Bernard Shaw
Class of 2012 – "Sit in humility, rise in responsibility." – Akan Proverb
Class of 2011 – "Honor the past, value the present, create the future."
Class of 2010 – "Those who know others are learned; those who know themselves are wise." – Lao Tze
Class of 2009 – "Sapere Aude! Dare to be wise!" – Horace
Class of 2008 – "Make each day a masterpiece."