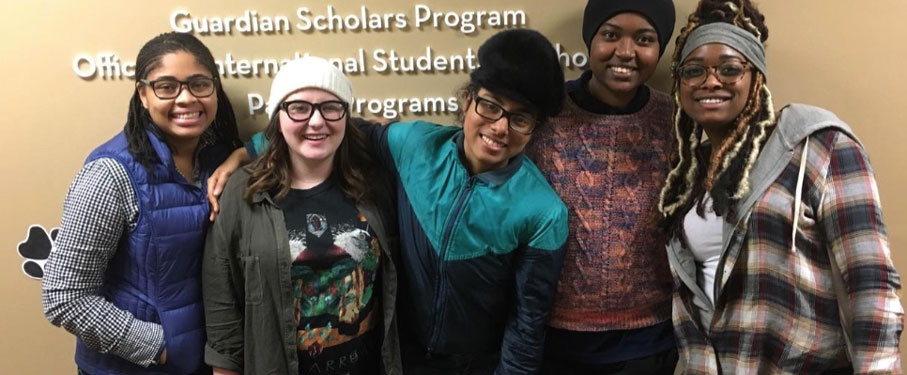 The LMU Guardian Scholars Program provides programs, resources, services and support to meet the unique needs of our former/current foster youth, emancipated minors, homeless and independent students.
The program also serves as a one-stop shop committed to the development and engagement of Guardian Scholars in their leadership roles, community involvements and professional experiences.
Our goal is to engage Guardian Scholars as leaders within the LMU, Los Angeles and global community. We also aid in the successful completion of Guardian Scholars' undergraduate degrees and prepare Guardian Scholars for life after graduation.
Contact Guardian Scholars
If you have questions, concerns, ideas or moments when you need a helping hand, contact the Guardian Scholars Program office. Whatever you need, GSP is here to help. Stop by to talk with us and check out our student lounge!
Office: Malone Student Center, Suite 301
Email: guardianscholarsprogram@lmu.edu
Phone: 310.338.5252
Need help locating our office? Check out our LMU campus maps.
Just visiting for the day? Learn more about Visitor's Parking.
Meet the Guardian Scholars Staff
Lisha Maddox | Director of Student Success
Born and raised in Los Angeles, Lisha attended the University of California, Irvine and majored in English and Sociology. Having every intention to become an attorney, she attended law school for a bit before finding that her true passion was working with students in higher education. Lisha earned a Masters of Education in Postsecondary Administration and Student Affairs from the University of Southern California in 2011. She started as a Program Coordinator for First Year Experience in the fall of 2011. In Lisha's current role, she provides support to LMU parents and assists with the transition of new students in their first year at LMU. When she's not working with incredible LMU students, Lisha enjoys reading, traveling, having board game nights, and spending time with her family.
Gabriela Arana (she/her/ella) | Assistant Director of Student Success
Gabriela Arana earned her BA from Whittier College (2013) and then her MA in Higher Education Administration from LMU (2018). She served as Vice President of GSLMU as a graduate student and has had the opportunity to work in Human Resources and the Dean of Students office at LMU. Now, as Assistant Director of Student Success, Gaby provides programming and services to First-Year Transfer, Veteran Programs, Guardian Scholars and Out-of-State populations. She is also a Los Angeles Native and loves giving food advice for those who want to try new local spots! If she is not at work, she is probably at Dodger Stadium.