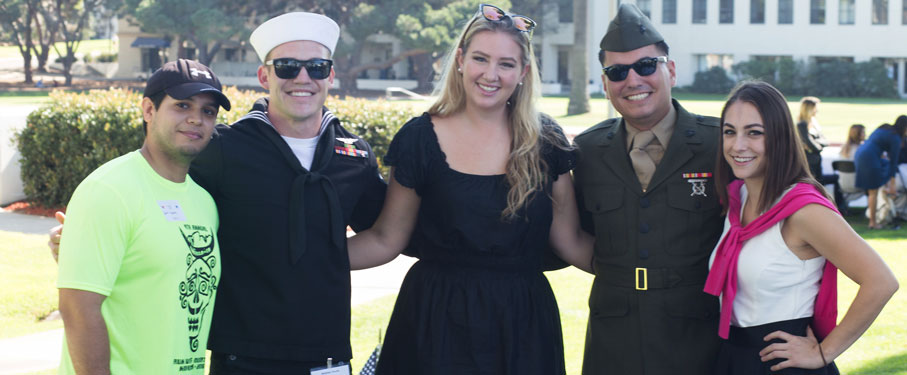 Veteran Programs supports the transition, persistence and graduation of student veterans, reservists and veteran dependents at Loyola Marymount University by providing individualized services, programming and resources.
See the tabs below for information for:
Here is an overview of requirements for transfer student admission to Loyola Marymount University. For more information please visit our Transfer Requirements and Deadlines page.

I have more than 30 transferable semester units

Students with more than 30 transferable semester units are required to submit:

I have less than 30 transferable semester units

Students with less than 30 transferable semester units are required to submit:

Common Application

and

LMU Supplement

online
Official Transcripts from all colleges attended
Official High School Transcripts
Official Standardized Test Scores (ACT or SAT)

CONTACT TRANSFER ENROLLMENT SERVICES

Please contact Tom Gutto, Director of Transfer Enrollment Services, with any questions regarding the
admissions process. Visit Transfer Enrollment Services at Von der Ahe 150, call (310) 338-1922 or email Tom Gutto.

Welcome to Loyola Marymount University. In order to qualify for education benefits provided by the Department of Veterans Affairs, a student must be accepted into an LMU academic program and enrolled in classes which meet requirements for an approved bachelor's or master's degree, credential, or other VA approved programs.

If you have any questions regarding the certification process please contact the LMU VA Certifying Official, Will Salvini, by calling (310) 338-5765 or by email.

VA CERTIFICATION DOCUMENTS

All of the following documents must be submitted to the VA Certifying Official in the Office of the Registrar (Von der Ahe 150) either in person or by fax to (310) 338-4466.

Send a copy of the Certificate of Eligibility (COE) letter to the Registrar's office. This letter from the VA details the type of benefit you have, your percentage of eligibility and the amount of educational benefits you have remaining.

If your COE has changed, an updated copy of your COE needs to be submitted to the Registrar's office.

Complete the Semester Benefits Entitlement form (

every semester

)

FINANCIAL AID

The admissions process does not stop at applying to the school of your dreams. The next step is ensuring you can finance your education.

Note: the FAFSA (Free Application for Federal Student Aid) is not required to receive veteran's benefits including the Yellow Ribbon program.

TRANSFER BBQ

Veteran students are invited to the Transfer BBQ each year in July. We look forward to seeing you at Transfer Orientation in August.

RECOMMENDATIONS FOR VETERAN STUDENTS

Student Veterans Organization

We recommend that veteran students join the Student Veterans Organization. Log into LMU EXP Online, search for the organization by name for more information.

Veteran Programs Office

Stop by the Veteran Programs Office in Malone 301 to learn more about the services available to veteran students and veteran dependents. Check out our student lounge area.