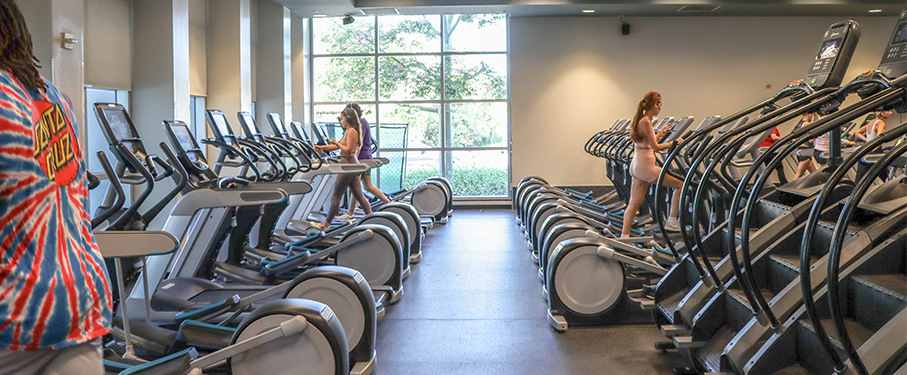 Welcome to the Burns Recreation Center at Loyola Marymount University. The front desk is staffed by friendly LMU students who are eager to answer any questions you may have regarding the Burns Rec facility. At the front desk, you may receive information on all Campus Recreation programs and services including intramural and club sports, group fitness classes, and swim lessons.
The studios are home to all of the group FitWell Center classes offered by the Burns Recreation Center. Up to 50 classes a week are available, including F45, Dance, Spin, Yoga, Pilates, Kickboxing, Abs, Boot Camp, Martial Arts and more. Studio 1 also provides space for open recreation boxing and other fitness activities.

Located on the first floor of the Burns Recreation Center are two multi-purpose courts where members can play basketball, volleyball, or indoor soccer. This venue is also where the intramural and club sports take place. A third court, known as the Burns Back Court is located on the second floor of the facility. This court may be used for events, practices, and recreational play for all Burns Rec Members.

Cardio Equipment

The cardio section offers more than 50 pieces of equipment, including treadmills, upright and recumbent bikes, cross trainers, Stairmasters, and rowers. The BRC Fitness Center also offers a designated area for stretching and core work.

Weight Equipment

The weight area is equipped with a large variety of plate loading and free weight equipment necessary for a full body workout. Whether you are an experienced lifter or just beginning, the LMU Fitness Center has a variety of options to fulfill your needs.

The Burns Recreation Center Pool is a 50-meter by 25-yard competition pool. It can either be set up in a short-course format (16 x 25-yard lanes) or a long-course format (8 x 50-meter lanes). Lane availability varies each day and is outlined in our monthly schedule.
Facility Rental
All LMU and outside groups who wish to reserve a space in the facility must submit a reservation request to LMU Conference and Event Services. For more information please contact LMU Conference and Event Services at 310-338-2975.