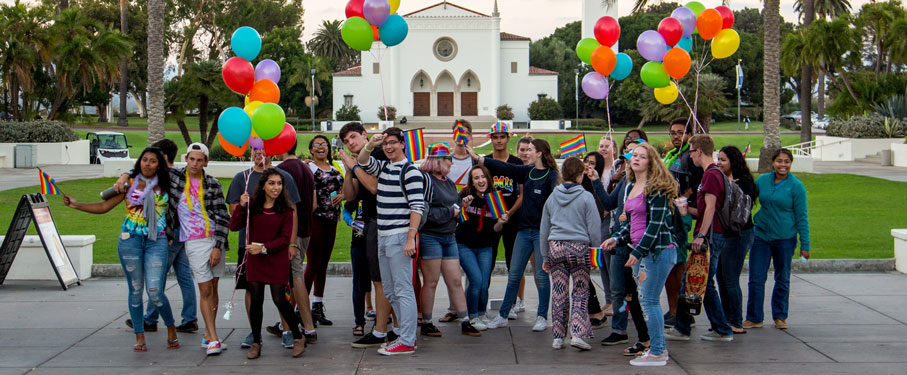 Contact LGBTSS
Please feel free to contact LGBT Student Services with any questions or stop by the office for resources and information.
Phone: (310)258-5482
Email: Stuart.Moskovitz@lmu.edu
Office: Malone Student Center 201
Mission of LGBTSS
The LGBT Student Services Office at LMU will:
Promote equality, visibility and inclusion of LGBT students within the LMU community.
Provide support for the LGBT student community and individual students.
Serve as the primary resource and support center for students of all orientations and gender identities by creating an inviting, safe, confidential and inclusionary atmosphere within the Office.
Provide all members of the University community with resources, education and information about sexual orientation and gender identity.
Engage the University community in regular dialogue about the intersection of sexual orientation and gender identity with issues of faith, religion and culture. Within these dialogues, the Office will place a particular emphasis on these intersections as they relate to the University ethos of Interculturalism and the principles of Catholic Social Teaching.
Meet the Staff
Stuart Moskovitz
Stuart Moskovitz comes from Atlantic City, New Jersey, and earned his undergraduate degrees at Rowan University in science, education, mathematics, and special education. He continued his education at Frostburg State University earning his master's degree in educational leadership and has spent more than 10 years in student affairs leadership positions in public, private, and religious institutions. Moskovitz has been involved within Jesuit, mission-driven practices at Fordham University where he served as a resident director overseeing students and directing the campus's STEM tutoring curriculum, while also being a student conduct officer promoting restorative justice and an on-call crisis counselor assisting multitudes of student concerns. He aims to help students be proud of their identity, build community on and off campus, and provide tools to manage the challenges that come with life.