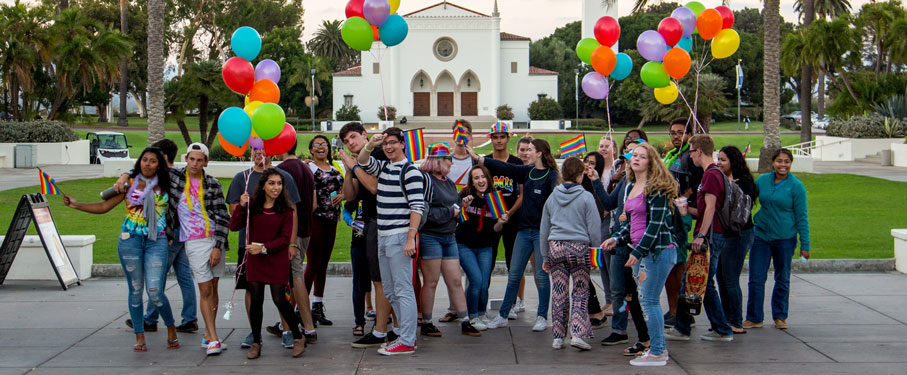 Contact LGBTSS
Please feel free to contact LGBT Student Services with any questions or stop by the office for resources and information.
Phone: (310)258-5482
Email: lgbtss@lmu.edu
Office: Malone Student Center 201
Mission of LGBTSS
The LGBT Student Services Office at LMU will:
Promote equality, visibility and inclusion of LGBT students within the LMU community.
Provide support for the LGBT student community and individual students.
Serve as the primary resource and support center for students of all orientations and gender identities by creating an inviting, safe, confidential and inclusionary atmosphere within the Office.
Provide all members of the University community with resources, education and information about sexual orientation and gender identity.
Engage the University community in regular dialogue about the intersection of sexual orientation and gender identity with issues of faith, religion and culture. Within these dialogues, the Office will place a particular emphasis on these intersections as they relate to the University ethos of Interculturalism and the principles of Catholic Social Teaching.
Meet the LGBTSS Staff
Lauren Moreno
Director, LGBT Student Services
Lauren Moreno began their role as Assistant Director of the Lesbian, Gay, Bisexual, Transgender Student Services office in October 2018. After having worked as Assistant Director for LGBTSS since 2017, Lauren has since become an Alumni of LMU, getting their degree in the Master's program of Educational Studies. Lauren also serves as the advisor of the registered student organization Transcendence which caters to the needs and development of Trans* Non-Binary student populations, the Gender Sexuality Alliance a club for LGBTQ students at LMU, and the newest addition to our LGBTQ registered student organizations the Queer Film Club. Lauren has worked extensively within the LGBT community ever since graduating with their BA in Philosophy and double minor degrees in Pre-Law & Sociology at Mount St. Marys University where they were acting president of the Gay- Straight Alliance. Since then they have worked for the SEIU-USWW Janitorial Unions education based non-profit Building Skills Partnership, where they acted as a programming assistant for various life skills courses. Lauren also works extensively with the LGBT Center of Los Angeles, primarily within their youth education department Lifeworks. They have been training with the Community Action Network out of the LGBT Center for the past 3 and a half years, engaging LGBT youth populations in LAUSD area in storytelling, resonance building, leadership development, and educational attainment. Needless to say, Lauren loves all things LGBT and education and hopes to pursue their Ph.D. in Queer Theory and maybe if they're feeling ambitious their Law Degree.