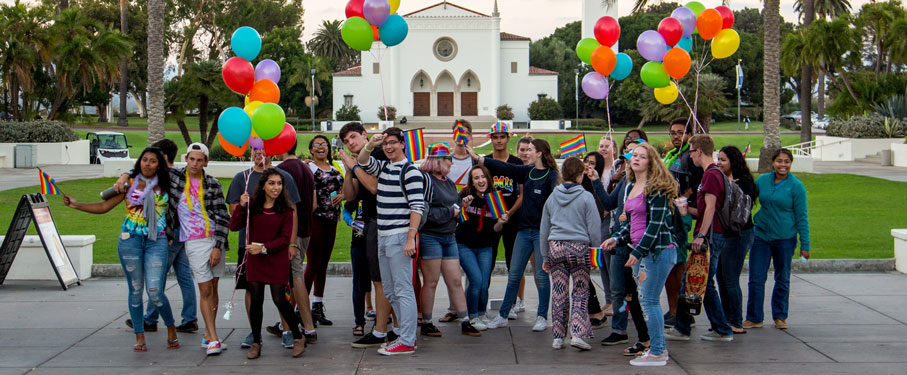 Contact LGBTSS
Please feel free to contact LGBT Student Services with any questions or stop by the office for resources and information.
Phone: (310)258-5482
Email: lgbtss@lmu.edu
Office: Malone Student Center 201
Mission of LGBTSS
The LGBT Student Services Office at LMU will:
Promote equality, visibility and inclusion of LGBT students within the LMU community.
Provide support for the LGBT student community and individual students.
Serve as the primary resource and support center for students of all orientations and gender identities by creating an inviting, safe, confidential and inclusionary atmosphere within the Office.
Provide all members of the University community with resources, education and information about sexual orientation and gender identity.
Engage the University community in regular dialogue about the intersection of sexual orientation and gender identity with issues of faith, religion and culture. Within these dialogues, the Office will place a particular emphasis on these intersections as they relate to the University ethos of Interculturalism and the principles of Catholic Social Teaching.
Meet the LGBTSS Director
Marc Cooper
Interim Director, LGBT Student Services
Marc Cooper began his role as Interim Director of the Lesbian, Gay, Bisexual, Transgender Student Services office in Fall of 2021. Marc moved into the role after working for LMU in the Bellarmine College of Liberal Arts for two and a half years. In 2017 he graduated from with an M.A. in International History with a specialty in LGBT Studies from the Graduate Institute of International and Development Studies in Geneva, Switzerland; after having received a B.A. in History from Florida State Univeristy in 2015. Marc serves on LMU's LGBT Faculty and Staff Network Leadership Council, and is deeply committed to LMU's queer students, faculty, and staff on campus.