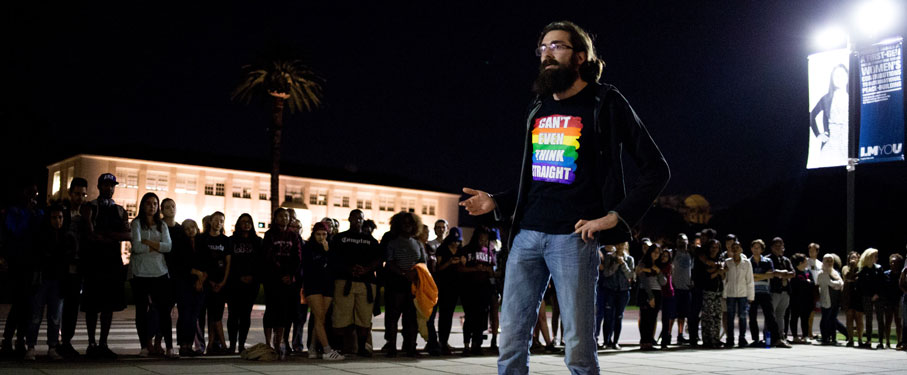 Services for Students
One-on-One Advising and Support Services
LGBT Student Services' primary objective is to contribute to the advancement of LGBTQIA+ students by aiding in their academic, emotional and social adjustments to college. LGBT Student Services will offer one on one advising and support services for all LMU students. LGBTSS will work in collaboration with various university departments and offices to ensure that all students are supported. Examples include the "Queer Conversation Hour" through SPS, spiritual counseling through Campus Ministry, and academic support services provided by the Academic Resource Center.
LGBT Library
The LGBTSS Library and DVD Collection will contain books, DVDs, magazines and scholarly journals on the topics of sexuality and gender. All items will be available to be checked out through the LGBTSS Office. A catalog of the entire collection within the LGBTSS office and the LGBTQIA+ literature housed in the William H. Hannon Library will be available online.
Peer Discussion Groups
Peer discussion groups are open forums that provide students with the opportunity to come together and meet others who are facing similar challenges in a relaxed and confidential setting. Topics of discussion will vary and each discussion group will be facilitated by a volunteer peer leader.
Workshops
The office will offer educational workshops and training seminars for classes, campus agencies, and departments about LGBTQIA+ lives and issues. Programs will be designed specifically for target audiences and may include students sharing their own experiences. LGBTSS will collaborate with Intercultural Affairs, Student Psychological Services, Gender Sexuality Alliance and other campus departments to provide workshops on topics ranging from suicide, family, bullying and privacy.
Student Programs and Events
Educational Programming
LGBT Student Services will offer a variety of educational programs and events throughout the year for the LMU community. These events will serve to engage the University community in regular dialogue about the intersection of sexual orientation and gender identity with issues of faith, religion and culture. Examples of educational programming that will be sponsored by the office are Coming Out Day events and workshops, TransAction Day events and workshops, and Colloquia focused on religion and sexual orientation.
Social Programming
LGBT Student Services will offer a variety of social programs and events throughout the year for the LMU community. These events will serve to engage students in building community with one another in a fun and social environment. Examples of social programming that will be sponsored by the office are the LGBT Mixer, GayLA, and OUTSpoken: Open Mic Nights.

LGBT Student Getaway
The LGBT Student Services will offer undergraduate students a LGBT Student Getaway. During the retreat, students will make new friends, build community, experience personal growth, explore leadership opportunities and get energized for campus activities. We will discuss what brings us together within the LGBTQIA+ community and how our different experiences and identities create spaces for ally-building and activism.

Lavender Graduation
Lavender Graduation is an cultural celebration that recognizes LGBTQIA+ students of all races and ethnicities and acknowledges their achievements and contributions to the university. Through such recognition, LGBTQIA+ students may leave the university with a positive last experience of the institution thereby, encouraging them to become involved mentors for current students as well as contributing alumni.
LGBT Saturdays of Service
LGBT Saturday of Service is a bimonthly service opportunity for students to volunteer and help serve the local Los Angeles LGBTQIA+ Community. Students volunteer on a designated Saturday from 9 a.m. to 2 p.m. at a number of locations throughout the community. This program is meant to encourage students to increase their sense of responsibility toward helping to improve the LGBTQIA+ community.
LGBTQ Spirit Day (October 17)
Millions of Americans wear purple on LGBTQ Spirit Day as a sign of support for lesbian, gay, bisexual, transgender, and queer (LGBTQ) youth and to speak out against bullying. Spirit Day was started in 2010 by teenager Brittany McMillan as a response to the young people who had taken their own lives.
Observed annually on October 20, individuals, schools, organizations, and corporations, media professionals and celebrities wear purple, which symbolizes spirit on the rainbow flag. Getting involved is easy — participants are asked to simply "go purple" on October 20 as we work to create a world in which LGBTQIA+ teens are celebrated and accepted for who they are.
We have been profoundly impacted by these stories and want to send a powerful signal that we collectively value and celebrate the lives of all young people. In a sea of encouraging friends all wearing purple in a massive gesture of unity, it gets much harder to feel alone. Our hope is that this day of solidarity and strength in numbers will be a source of on-going inspiration for young people as they face the inevitable challenges of learning to love themselves for who they are, sometimes in the face of extreme adversity.