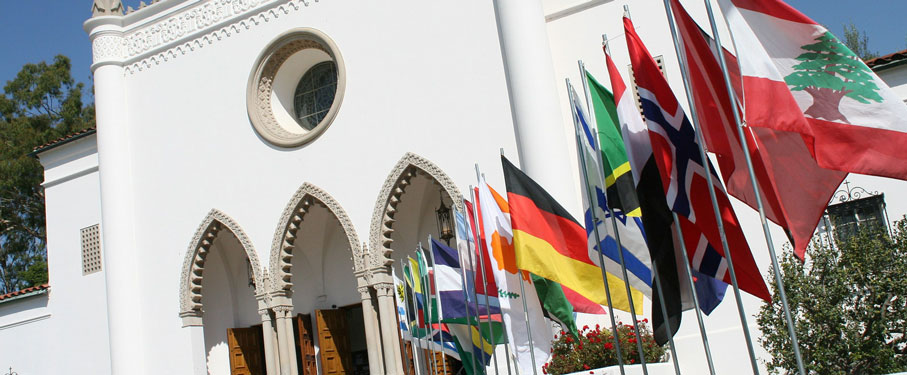 Loyola Marymount University is a premiere teaching and research institute with both undergraduate and graduate programs that have been recognized as among the best in the United States. Located in a residential neighborhood in Los Angeles, California, LMU provides its students with a welcoming and safe campus environment with easy access to all that the city (and the world) has to offer. Additionally, international students are eligible for academic scholarship programs sponsored by LMU, as well as LMU Work-a part-time work program on campus.
Apply to LMU
For more information about Loyola Marymount University and how to apply, please visit Join the Lion Family.
International Community at LMU
The international community at LMU is engaged and involved on campus. International Students are an important part of campus and culture. At LMU, we welcome our international students with a special orientation that gives them the confidence to become engaged leaders who can easily navigate their way through their curriculum and extracurricular activities.
LMU international community consist of:
Undergraduate Students
Undergraduate students at LMU represent over 75 countries and are enrolled in all academic programs at the University. Most popular majors for undergraduate international students are Finance, Entrepreneurship, Film and Television Production, Marketing, and Economics. For more information about undergraduate admission visit the Office of International Admission.
Graduate Student
Loyola Marymount University attracts students seeking graduate-level studies to all of our five colleges and schools. International Graduate students are encouraged to take part in university life on campus and many contribute important work as graduate assistants for a variety of departments and schools. Visit International Graduate Admission for more information.
Exchange Students
LMU welcomes a growing number of short term exchange students each year from our partner universities overseas. Though only here for a short time, exchange students take full advantage of the opportunities afforded them and become valuable members of our community. Exchange Students participate in our special International Orientation and become part of our international student community. Visit LMU Study Abroad to learn more.
International Alumni
LMU has a growing number of international alumni around the world. The largest group of our organized alumni are located in Jakarta, Indonesia where their events include an annual LMU cosponsored reunion, participation in various LMU worldwide alumni events, including the Global Day of Service, Global Happy Hour and other regional programs. As LMU continues to promote global education, we see more and more of our American alumni also taking jobs and residence abroad and join our global alumni networks.
Recent international alumni remaining in the United States for Optional Practical Training continue to be supported by OISS and connected to our larger campus community. Visit Alumni Relations and become part of the worldwide alumni network.
Note to Prospective Students
B-2 visitors intending to visit academic institutions in the U.S. must declare their intentions as a "Prospective Student" or "Prospective Exchange Visitor" at the Port of Entry. B-2 visitors who fail to do this are no longer eligible for a "change of status" within the U.S. and must depart the country to apply for an F-1 visa.
B-2 visitors are not eligible to work or study in the U.S. Violating the terms of the B-2 visa program may subject visitors to immediate removal from the U.S..
Estimating Cost of Attendance
Prospective and recently accepted students interested in estimating the cost of attendance to LMU are encouraged to utilize the following tool Expense Calculator.