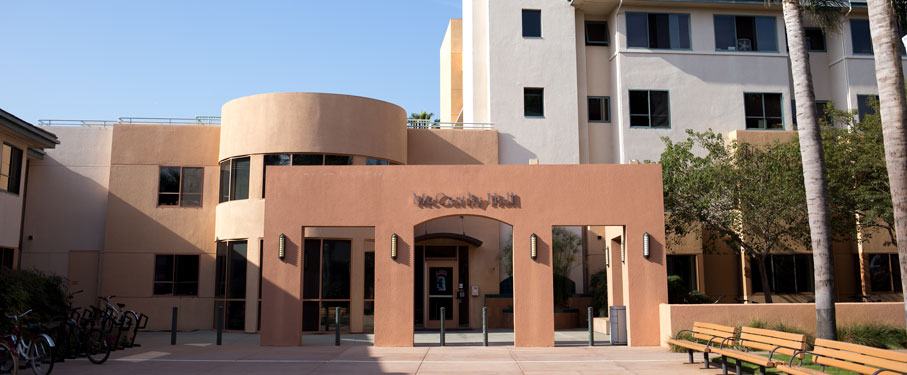 ‌On the West campus of LMU, perched on the bluff overlooking Marina del Rey, this four-story, suite-style residence hall is home to over 200 sophomores. McCarthy is mostly comprised of two, double occupancy rooms joined by a semi-private bathroom, for a total of four roommates per suite. McCarthy also boasts a limited number of private double and single rooms. The building is named for benefactor, J. Thomas McCarthy.
Details for McCarthy Hall
Building Type: Suite-style Residence Hall, Co-ed by unit
Location: Near Rains Hall and O'Malley Apartments; next to William H. Hannon library
Built: 1996
# of Student Beds: 246
Approximate Dimensions: Double: 13' x 15'; Single: 10' x 14'
Features: A/C, Main Lounge, 5 Floor Lounges, 5 Study Rooms, Community Kitchen, Reading room, Conference Room, Music Practice Room, Laundry Room
Elevator: Yes
Furniture Details
Furniture Per Student
1 - XL Twin Bed
1 - Closet
1 - Dresser
1 - Desk
1 - Desk Chair
1 - Bookshelf
ROOMIE: Explore a suite-style McCarthy room using the link below. Furniture can be arranged, items can be measured and products can be purchased to prepare the perfect environment for your experience in Lion Nation!

Please note: While these are default layouts and measured accurately, individuals rooms are subject to variation and measurements are approximate.