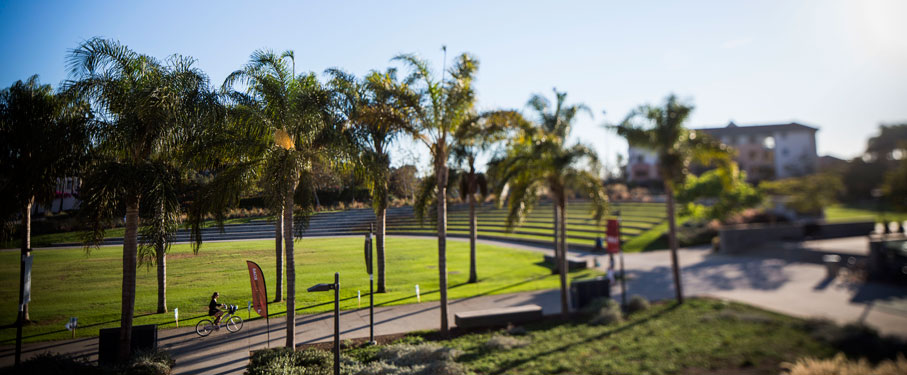 LMU students interested in summer housing will be able to apply beginning in early April. The application process consists of the following three required application materials:
Complete the online application found in MyLMU. To access the online application, please login to MyLMU and click on "System Logins" on the top right to access the option titled "Student Housing Online Services" from the drop down menu. Select the "Apply" tab, the link titled "Summer Housing Process" and follow the instructions to begin your application.
Electronically acknowledge the License Agreement found in the online application. We encourage you to save a copy of the License Agreement for future reference.
Pay the non-refundable $100 Housing Deposit. This fee can be paid at the Student Accounts Office located on the 2nd floor of the Charles Von Der Ahe building or online at the Student Accounts Center.
Eligibility for Summer Housing
In order to live on campus during the summer sessions, all students must meet at least one of the following three eligibility categories:
Work an internship and register for the corresponding LIBA Course with the Registrar
Work for a minimum of 20 hours a week (must complete the 2020 Proof of Employment)
Enroll and participate in 3 units or more in summer school at LMU
LMU offers on-campus housing for the summer sessions I and II in the Hannon and Tenderich Apartments to those who complete the three required application materials and who meet at least one of the three eligibility categories. Room assignments are made as soon as all three required application materials are completed.
Application Deadline
The priority deadline to apply for Summer Housing is Friday, April 17, 2020. Applying by April 17, 2020 does not guarantee you Housing so make sure to apply as soon as the application opens. Students are still able to apply after this date, however, assignments are then based on availability.
Students receiving summer housing will be placed in one of our fully furnished, two-bedroom, one-bathroom apartments that are designed to accommodate four students. The living room is furnished with a sofa, two arm chairs, a coffee table, an end table, a table lamp, and a floor lamp. The kitchen is equipped with an electric range/oven and refrigerator. The bedrooms are furnished with twin extra long beds, dressers, bookshelves, and desks for each student. Please see the links below for more details.
Summer Housing Dates
Students have the opportunity to choose the move-in and move-out date that works best for them. For all students, check-in time is from 8:00-4:00 PM at the summer Area Office located in Leavey 6 (Room 209) , and check-out time is at 12:00 PM. Listed below are the dates from which students will be able to choose.
Please note that the spring-to-summer transition date is May 15, 2020. In addition, the Summer-to-Fall transition date is Monday, August 10, 2020.
Move-In Dates

Move-Out Dates

May 16, 2019:

Recommended for students who are currently living on campus and do not wish to move off campus before the start of Summer Session I.

June 28, 2019:

Recommended for students who wish to remain on campus through the end of Summer Session I.



May 16, 2019:

Recommended for students who do not have spring housing assignments, but who wish to live on campus during Summer Session I.

August 9, 2019:

Recommended for students who wish to remain on campus through the end of Summer Session II.



July 1, 2019:

Recommended for students not currently living on campus, but who wish to live on campus during Summer Session II.

August 12, 2019*:

Recommended for students with fall housing assignments who wish to live on campus from the end of Summer Session II until the beginning of the fall semester.
Note: Students who choose the August 13 move-out date have two move-out options:
Transition to their fall on-campus housing assignment on August 12th and begin paying the daily rate associated with the fall housing assignment as of August 12th.
Move to an off-campus residence on August 12th.