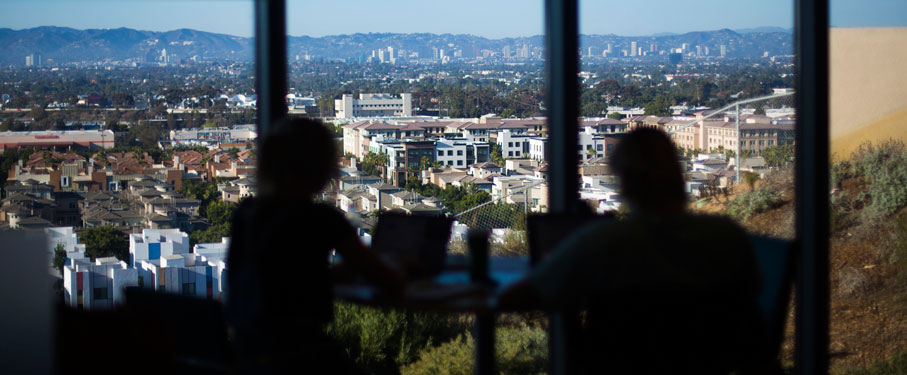 Why Living Learning Communities?
Living Learning Communities (LLCs) are for students who share a common interest or academic pursuit, to live and study in an intentional educational community. LLC's create a more academically and relationally supportive environment for students living on campus and enhance the residential and educational experience of students.
Research shows that students who are involved in a Living Learning Community have elevated academic success, easier experience connecting with peers, increased graduation rates and overall higher satisfaction with their college experience.
LLC Benefits:
There are many reasons to participate in Living Learning Communities at LMU, including:
To help facilitate the academic and social transition to college
To create strong academic skills to aid student's success
To increase collaboration with faculty, peers and LMU community
To aid in their retention at the institution
To integrate academic and co-curricular experiences
To promote increased satisfaction of the LMU college experience
To develop an openness to views different from their own
LLC Options at LMU
Loyola Marymount University provides a variety of Living Learning Communities for both new or continuing students to live together and take the same course(s).
Returning Student LLCs:
The Academic Community of Excellence (ACE) equips underrepresented students with the knowledge and skills to access and thrive in graduate and professional programs. Through advising, courses, academic and co-curricular experiences, and a supportive community of scholars ACE prepares students for masters and doctoral studies.
Contacts: ace@lmu.edu; (310) 338-5348
Highlighting the Ignatian roots of the LMU Mission statement, the Arrupe LLC seeks to help students understand and intentionally live out this mission that grounds their education at LMU in creative, practical ways. Arrupe provides many opportunities that balance body, mind, heart, and spirit, as well as extracurricular opportunities for students to foster action and reflection in the midst of partnered academic and extracurricular settings facilitated by live-in staff according to Ignatian principles.
Contacts: Marc.Reeves@lmu.edu
Gender and Intersectional Identities
The Gender and Intersectional Identities LLC will serve all students with an interest in developing their understanding of the complex ways gender and gender identity shapes the world around them and their experience of community. Through community development, discussions, reflection, and experiences off-campus the LLC will develop a greater understanding of gender and their roles as leaders.
Contacts: Lalo.Moreno@lmu.edu; LGBTSS Office (310) 258-5482
The University Honors Program operates the HONORS LLC which aims to prepare students for a full and intellectual life. The program integrates the Honors program with a living and learning curriculum to maximize student's experience. Along with taking two courses in the academic year, members of the LLC will enjoy office hours with honors faculty and staff, allowing for more interaction than just the confines of the classroom. There are also extracurricular events (trips and movies) facilitated by the University Honors program faculty and staff. Students must be enrolled in the Honors program to apply.
Contacts: trevor.zink@lmu.edu; 310-338-5331;
Service-Learning Community
The Mission of the the Service-Learning Community is to cultivate the next generation of leaders to be people with and for others. This Service Living community is using a multi-year, cohort model students will engage in hands-on service in the Los Angeles community and immersive learning modules that provide a framework for creating social change. This community will not require a shared academic course.
Contacts: csa@lmu.edu; (310) 338-2959
First-Year Student LLCs:
First Gen Forever


The F

irst-Gen Forever

LLC

aims to create an intersectional, i

de

ntity-conscious living environment for incoming first-year, first-generation

college students. Using our five program pillars:

Transition,

Network

Building, Academic Engagement, Preparation for Post-Graduate Success, and Advocacy for Institutional Transformation, we aim to increase student success, student engagement in high-impact practices, and first-year retention. First-Gen

Forever

LLC

will

stimulate academic, personal, and professional success

for first-generation students

by immersing

first-year, first-gen students in a holistic living environment supported by faculty, staff and University resources.
Contacts: firsttogo@lmu.edu; (310) 338-76779
The LEAP program is a living learning community for first-year students in the Life Sciences in the Seaver College of Science and Engineering. Students take 3 classes exclusive to LEAP students and designed to integrate into the learning community experience. Alongside of the academic coursework are various extracurricular components designed to enhance student's learning and success in pursuing careers in the life sciences.
Contacts: sluca@lmu.edu; (310) 338-2834
This LLC will be focused on the specialized needs of students in the School of Film and Television to emphasize the collaborative nature of media pursuits both in the college experience as well as deeper preparation for student's future careers. Students in this community will take a "History of Television" First-year Seminar together in the fall and participate in a one-unit media collaboration class together in the spring. Additional activities will include a studio visit, a show taping, a visit to the AMPAS museum, and social gatherings tied to major industry events, such as viewing parties for the Emmys, Golden Globes, and Oscars.
Contacts: David.Clawson@lmu.edu; (310) 338-3033
The PEEC LLC is for first-year engineering students in the Seaver College of Science and Engineering. Specially designed courses, residential components, and various co-curricular experiences are provided and designed to integrate into a holistic learning experience for students who want to pursue careers in the engineering disciplines. All students in this LLC will participate in a pre-college experience that prepares them for the transition of college and promotes peer relationships in the living learning community.
Contacts: sluca@lmu.edu; (310) 338-2834
The Transfer Living Learning Community (TRLLC) is an intentional year-long program that helps new students transition successfully into the LMU environment. Students living in a residential community maximize their opportunities during their time at LMU. Members of the Transfer Community will become leaders on campus and become involved at LMU right away, take a 1-unit Ignatian Leadership Course for both Fall and Spring Semesters, and have a peer support group to help you navigate the University environment.
Contacts: Lisha.Maddox@lmu.edu; (310) 338-5252
Theme Housing Program Options at LMU
Loyola Marymount University also provides a variety of Themed Housing for students to live together and experience intentional programs and events around a particular theme without taking a class (necessarily). Please see the Themed Communities webpage for more information.
Mission of Living Learning Communities
The Academic and Student Affairs divisions at LMU collaborate to assist students' successful adjustment to and transitions through their collegiate experience by offering a variety of Living Learning Communities:
A student's active participation in a Living Learning Community will empower them to realize their full potential in mind, body, and spirit.
Living Learning Community students will experience academic success and personal development, become involved in campus life, and value engagement in further curricular and co-curricular pursuits.
Please contact the Housing office at 310-338-2963 or e-mail Housing@lmu.edu for more info.