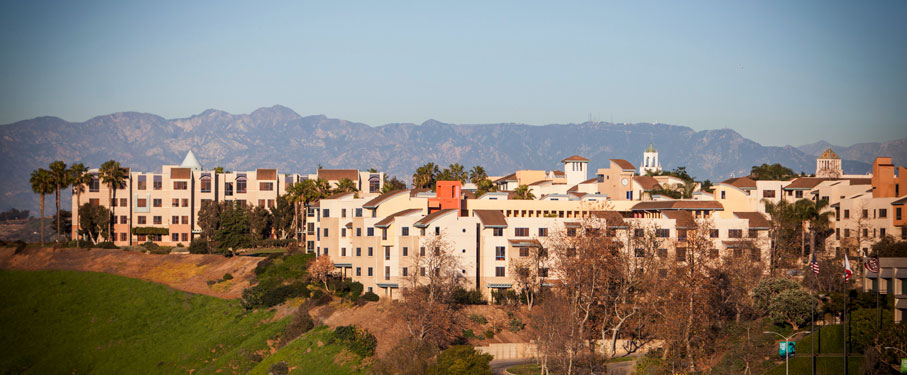 Loyola Marymount University has many beautiful living options from which to choose. Traditional residence halls, suites, apartments and houses are home to more than 3,600 students who live on LMU's campus. Our facilities provide everything you need to live comfortably and excel academically. Additionally, Living Learning Communities, top-tier amenities and a robust Residence Life program enrich each student's educational and social experience at LMU.
Our traditional residence halls are home to predominantly first-year Loyola Marymount University students. In these buildings, two LMU students share a room, and the residents on the floor share one or more bathrooms. Some buildings have a limited number of singles available. Other housing community spaces included are study rooms, lounges and laundry facilities. In addition, most first-year buildings are located in close proximity to each other, creating a unique and supportive "First Year" community that supports and promotes the success of each student transitioning to college life.

LMU Student Housing is proud to offer a variety of living options for our continuing student population. Our building options include suite-style rooms, 4 & 5-person apartments and pod-style living. Some buildings overlook the majestic bluff while others are centrally located to campus dining and resources. Explore the living options below and learn about the top-tier Living Learning Communities and amenities.

Suites: Suite-style residence halls are home to predominantly second-year students.

Apartments: On-Campus apartments are home to mainly upper-division students.

Houses: Our two university student houses are home to students accepted into the Service and Action House and the International House.

LMU offers spaces for graduate students at Playa Del Oro Apartments which is located just minutes away from campus. Enjoy all the amenities Playa Del Oro has to offer, including:

In unit washer and dryer,
Access to the pool & spa,
Fitness center and
Controlled access parking
Utilities included*

*Cable, internet and phone are not included. Learn more about amenities offered at Playa Del Oro. For pricing, visit our Housing and Meal Plan Rate information page. Unfortunately, family housing is not offered at this time through LMU at PDO - Graduate Housing.
Explore by LMU Housing by Halls & Buildings