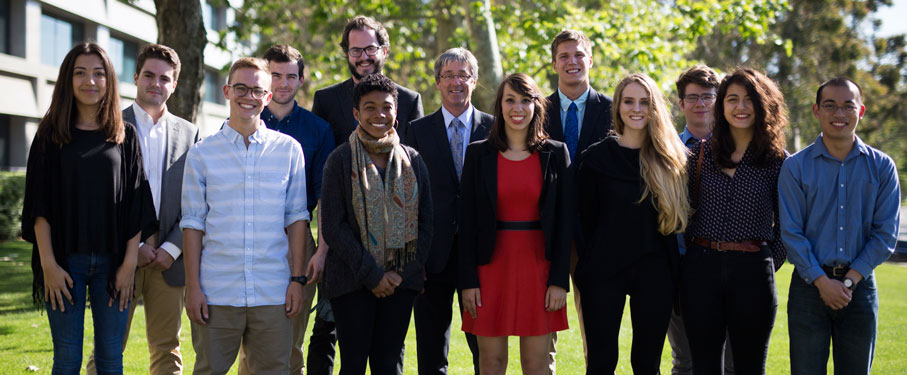 Honors communities are located in several different housing facilities on campus. The primary goal of these communities is to create a learning environment where students in the Honors Program can get the support they need while engaged in this rigorous academic program. There are several rooms in the Del Rey North Hall designated for first-year students who are new to the Honors program. Sophomore, junior and senior Honors students are invited to live in the O'Malley apartments.
Faculty from the Honors program and housing staff are committed to coordinating activities and events for all students involved in the program. Students applying for Honors housing must be approved through the University Honors Program in order to be part of the community. Honors housing is not guaranteed and is based on availability.
Honors Living and Learning Community
Freshmen honors students of any college or school are invited to this community. Students will take two linked honors courses; in the fall semester (On the Sublime and Writing Tutorial) and a one-hour Leadership and Service seminar in the spring semester. Members of the living learning community will enjoy office hours with honors faculty within the residence halls, allowing for more interaction with scholars outside of the academic confines of the classroom.
There are also co-curricular events (trips and movies) sponsored by the University Honors Program, as well as extracurricular programming provided by their resident assistants. Students participating in the living learning community will learn in more detail the workings of the Honors Program and how to prepare for a full, intellectual life.

Students must be accepted and registered members of the University Honors Program to qualify for the Honors Living Learning Community.
Benefits of the Honors LLC
Students participating in the Honors Living Learning Community will...
Know:
the information necessary for success in the LMU Honors Program
each other through communal living and learning
the resources available to them through the Honors and LMU
models of leadership and rationales for service
Be able to:
bridge academic success and social development
interact with honors faculty inside and outside of the classroom
access the resources available to them through Honors and LMU
integrate themselves into the greater LMU community
lead effectively and serve compassionately
Value:
the social dimension of intellectual life
the diverse traditions that make up LMU's student body
Please visit the University Honors Program website for more information