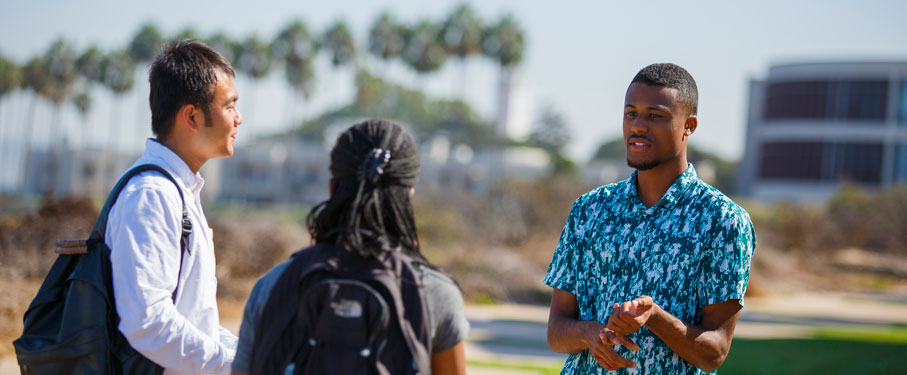 Loyola Marymount University offers a select number of housing spaces for graduate students. Unfortunately, we do not offer families housing therefore, these spaces are only available to graduate students enrolled at the Westchester campus. Newly admitted graduate students must first be accepted into a graduate program and commit to attend the University before being provided access to the online housing application. The online housing application will opens in early April.
Off-campus Housing: LMU at Playa Del Oro
We are excited to offer a new graduate housing community at Playa Del Oro. LMU at Playa Del Oro provides graduate students a housing experience just minutes from LMU. You will enjoy all the amenities Playa Del Oro has to offer, including your own bedroom and bathroom. Each apartment has two bedrooms and bathrooms, washer and dryer in unit, and is fully furnished. Unfortunately, we do not offer families housing therefore, these spaces are only available to Loyola Marymount University graduate students.
What's Included?
2 Bedroom Apartments- single and double occupancy spaces ( 1 person/room & 2 people/room)
All Utilities Included (cable, internet, phone not included)
Washer & Dryer in Unit
Fully Furnished

Bed (Queen in Singles, Twin in Doubles)
Nightstand
Couch
Armchair
Coffee Table
Side Table
Lamp
Dining Table/Chairs

Pool & Spa
Fitness Center
Controlled Access Parking
Learn more about the amenities offered by browsing the Playa Del Oro website.
Cost
For pricing, visit our Housing and Meal Plan Rate information page.
Application for Graduate Housing
The application for graduate housing opens April 2nd, 2020 at 8am. Priority deadline to apply is April 23rd, 2020 at 5pm, though the application remains open throughout the summer. If you are interested, the application can be accessed via the Student Housing Online Services portal under Campus Life in My LMU.
More Information
If you have any questions about LMU at Playa Del Oro, please contact the Off-Campus Community Director, Brandon Holmes, at Brandon.Holmes@lmu.edu or call (310) 338-2963.