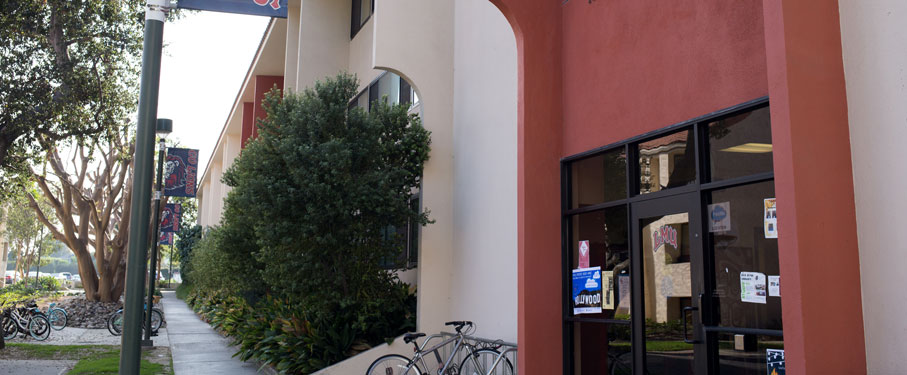 Tenderich, a three-story apartment building for sophomores, is located on LMU's south campus bordering the Westchester neighborhood. Students live two per bedroom in two-bedroom units with access to a private kitchen, living room, and bathroom. Its proximity to Hannon apartments creates a tight-knit community of sophomores who are all able to take advantage of the near-by basketball and sand volleyball courts. Tenderich is named for Ernst and Gertrude Tenderich, parents of trustee, Mary Kretschmar.
Details for Tenderich Apartments
Building Type: Apartment, Co-ed by unit
Location: Near Hannon Apartments and McKay Hall; next to basketball court
Built: 1968 (renovated in 2009)
# of Student Beds: 144
Approximate Dimensions: Bedroom: 11' x 13'; Living Room: 12' x 13'; Kitchen: 7' x 12'
Building Features: Laundry Room with Washers and Dryers, 3 Study Rooms, Lounge
Bathroom Features: Full-size shower/tub, 2 sinks, separate toilet room
Kitchen Appliances: Refrigerator, Stove/Oven, Microwave
Elevator: Yes
Furniture Details
Furniture Per Student
1 - XL Twin Bed
1 - Dresser
1 - Desk
1 - Desk Chair
1 - Bookshelf
Furniture Per Bedroom
1 - Shared Closet
Furniture Per Apartment
1 - Sofa
1 - Sofa Chair
1 - Coffee Table
1 - Side Table
1 - Tall Lamp
1 - Table Lamp
1 - Kitchen Table
4 - Kitchen Chairs
ROOMIE: Explore a Tenderich room using the link below. Furniture can be arranged, items can be measured and products can be purchased to prepare the perfect environment for your experience in Lion Nation!

Please note: While these are default layouts and measured accurately, individuals rooms are subject to variation and measurements are approximate.