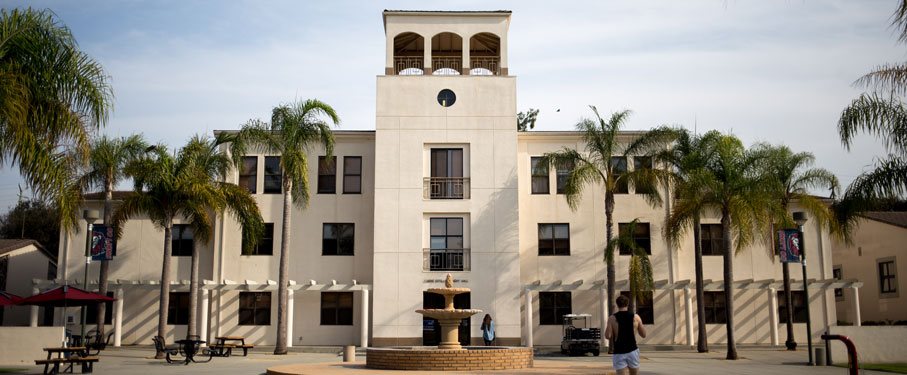 On LMU's East Campus, Doheny sits between the university's two newest buildings, Palm North and Palm South, forming a quad for all those residents to enjoy hammocks, outdoor seating, and more. This traditional-style three-story residence hall houses some of LMU's first-year women. Double rooms are the standard with two students in every room and community bathrooms down the hall. Doheny participates in the theme community LEAD, Leadership, Empowerment, & Achievement in Doheny, which provides leadership skills and tools for women. The building is named for university benefactor, Carrie Estelle Doheny.
Details of Doheny Hall
Building Type: Traditional Residence Hall, single-sex
Location: Near Palm North and Palm South
Built: 1986
# of Student Beds: 117
Approximate Dimensions: 11' x 14'
Features: Laundry Room with Washers and Dryers, Water Bottle Filling Stations, Cloud-based Printer, Study Room, and a 2nd Floor Lounge with a Microwave, Sink, and Communal Fridge
Elevator: Yes
Furniture Details
Furniture Per Student
1 - XL Twin Bed
1 - Closet
1 - Dresser
1 - Desk
1 - Desk Chair
1 - Bookshelf
ROOMIE: Explore a Doheny room using the link below. Furniture can be arranged, items can be measured and products can be purchased to prepare the perfect environment for your experience in Lion Nation!

Please note: While these are default layouts and measured accurately, individuals rooms are subject to variation and measurements are approximate.