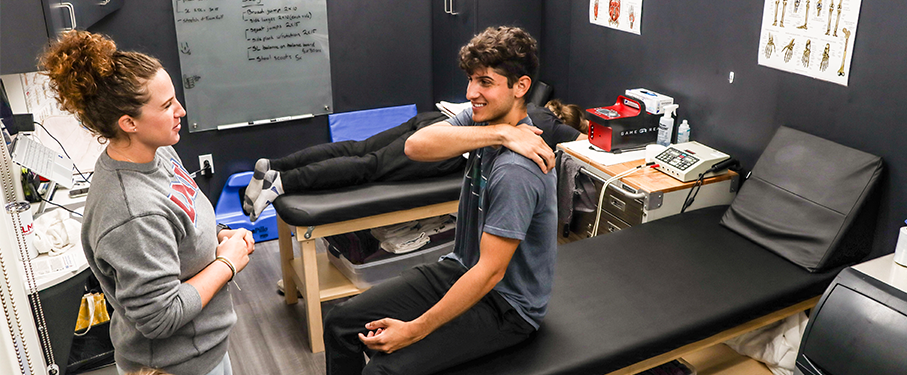 In collaboration with Student Health Services and the Student Affairs, Campus Recreation and Student Facilities is committed to offering quality medical services to current Club Sports students and all members of the Burns Recreation Center in good standing. We provided access to Certified Athletic Trainer(s) for the medical needs of the Club Sports students and LMU population. Athletic Trainers are on-site for all Club Sports events and assist participants with sports-related injuries to include evaluation, pre-practice/event preparation, concussion management, injury identification, taping, manual therapy, and/or injury rehabilitation.

The LMU Campus Recreation Athletic Training Clinic is in the Burns Recreation Center (BRC), first floor in-between the Esports Gaming Center and FitWell. Students are encouraged to make appointments for all injury consultations via Microsoft bookings which can be found by clicking the button below. Drop-in appointments are available as time permits and staffing permits. Appointments outside of office hours are offered with advance notice. All appointments will be linked to the Student Health Services electronic medical record system and available for review for all current full time students. For more information, email the Athletic Training staff at caitlyn.ratcliffe@lmu.edu.
Athletic Training Provides the Following Services:
Clinical evaluation and diagnosis of sport club related musculoskeletal injuries
Management and treatment of acute injuries
Immediate and emergency care
Implementation of corrective exercise/rehab programs
Concussion Management
Injury/illness prevention and wellness protection
Wound care management
Referral to outside healthcare provider when necessary and indicated
Days
HOURS OF OPERATION
Monday
10 a.m.-5 p.m.
Tuesday
11 a.m.-6 p.m.
Wednesday
10 a.m.-5 p.m.
Thursday
Closed
Friday
10 a.m.-4 p.m.
Weekends Game Coverage Only
Appointments are preferred and can be made by clicking on the button below.
Please wear athletic clothing to appointment.
Once your appointment is set, you will receive an email confirmation. You will also get a reminder email 24 hours before your appointment. If you must cancel an appointment, please do so at least 6 hours prior to your scheduled appointment time.
Meet the Athletic Training Staff
Meet the Athletic Trainer
Caitlyn Ratcliffe, MS, ATC, PES
Email: Caitlyn.Ratcliffe@lmu.edu
Office: 310.338.6511
Caitlyn comes to LMU after graduating from California Baptist University in 2012 with her Master of Science in Athletic Training. Upon graduating she started off working at a Physical Therapy Clinic and High School in Tustin, CA and later moved onto California State University, Dominguez Hills where she spent 5 years working with all the NCAA DII athletes, specifically the Women's Volleyball team, Men's Basketball and Softball. In 2019, she started as the inaugural Athletic Trainer for the Campus Recreation and Student Facilities Department at LMU working with the Club Sports teams on campus and Burns Recreation Center Members. Caitlyn is also an adjunct professor at both CSUDH and LMU in the Health Science Departments. Caitlyn grew up in Seattle, WA where her family still resides. She also has two dogs, Cali and Lola, and enjoys playing board games and exploring all the hidden gems in Los Angeles.